Summary
Trend Micro Technical Support has launched a fast and integrated notification system to allow registered users of the Business Support Portal (BSP) who have opted in to receive the latest information about Trend Micro products and threats.
Users can subscribe to receive email advisories per product and get timely and critical information straight to their mailbox such as the following examples:
Availability of new product version releases, service packs, critical patches, and other critical hot fixes for your subscribed products
Security bulletins detailing vulnerabilities and fixes for Trend Micro products
Deployment of critical technology updates, such as Virus Scan Engines (VSAPI) and other key detection components
Updates on noteworthy threats
Maintenance notifications for Trend Micro hosted services and other sites
Registered BSP users can follow the step-by-step instructions below to activate their subscription(s) to our email advisories per product.
Details
Public
Enabling Subscription (Opt-in)
To activate your subscription per product*:
Sign in to My Support Portal.

Note that you must already have a registered account on the portal. If you need to create a new account, select Create MySupport Account on the login page.

Set up a product profile for each product you would like to received subscribed emails for. Follow this article for the complete procedure: Managing a product profile in Trend Micro My Support.

If you already have a product profile, select it and proceed to Step 3.
* Users will only receive advisories tagged to the product indicated in your product profile. Those who wish to receive emails on multiple products must repeat the procedure for each product.
Email Advisories
As soon as a critical advisory has been publicly released, subscribed users will receive it in the Business Support Portal and via email.
The email notification will be sent by Trend Micro Advisory (support-advisory@trendmicro.com), which will contain a brief synopsis of the advisory and a link to the full article in Trend Micro's Knowledgebase.
Below is a sample email advisory: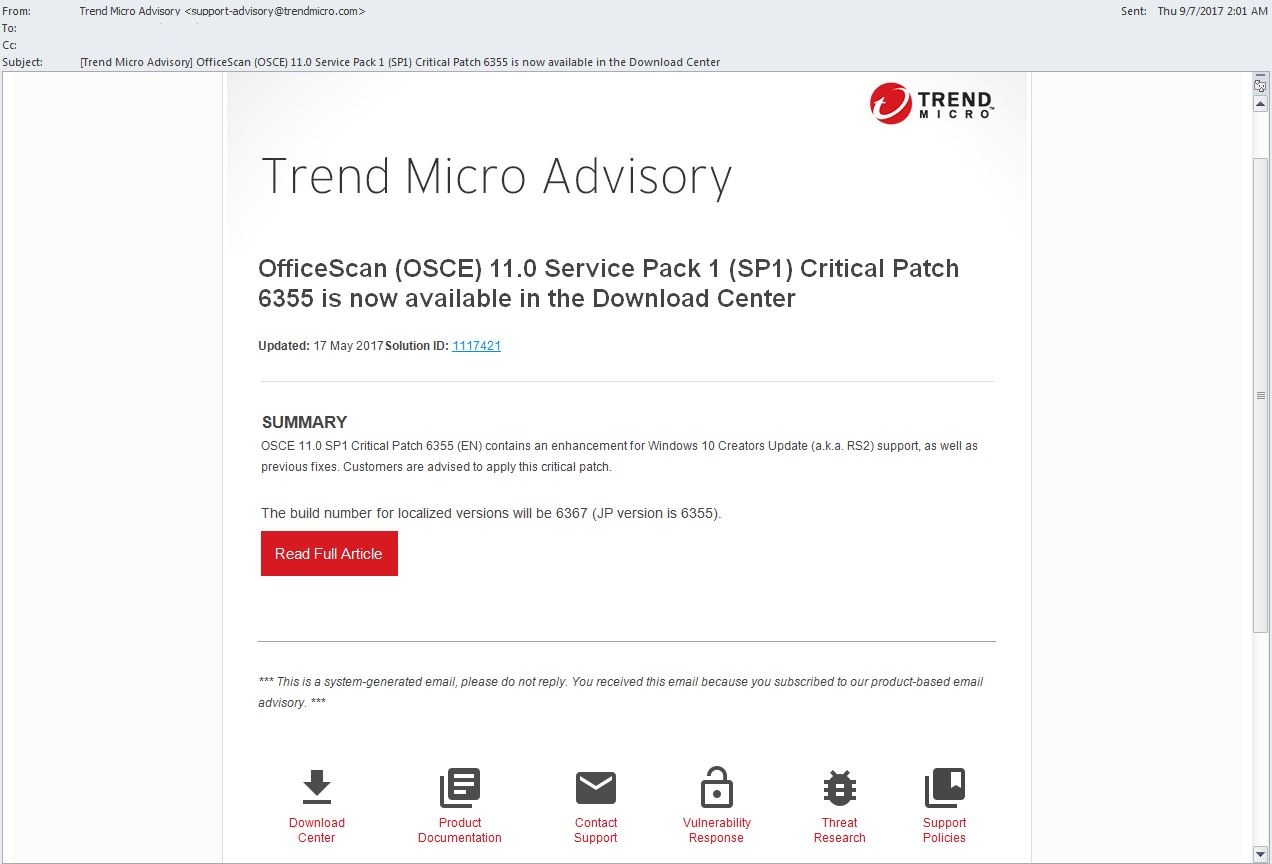 Users are encouraged to check their email client settings to ensure the advisories are not unintentionally marked as SPAM.
Disabling Subscription (Opt-out)
Users may choose to unsubscribe from notifications at any time.
To unsubscribe, please follow the same subscription procedure outlined above, with the only change to DESELECT the Subscribe to Articles/Solutions check box in Step 3 for each product you wish to stop subscribing to.
Internal
Partner